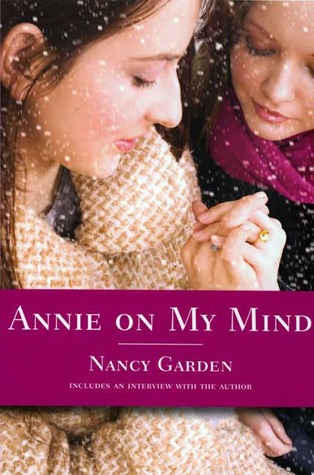 Annie On My Mind
Nancy Garden
★ ★ ★ ★ ★
Synopsis from Goodreads-
This groundbreaking book is the story of two teenage girls whose friendship blossoms into love and who, despite pressures from family and school that threaten their relationship, promise to be true to each other and their feelings. This book is so truthful and honest, it has been banned from many school libraries and even publicly burned in Kansas City.

Of the author and the book, the Margaret A. Edwards Award committee said, "Nancy Garden has the distinction of being the first author for young adults to create a lesbian love story with a positive ending. Using a fluid, readable style, Garden opens a window through which readers can find courage to be true to themselves."
This book will stay with me forever.
It's a beautiful, beautiful love story.
I write this review after having reread the book for the first time since reading it last year, and I loved it even more this time.
The characters, Annie and Liza's romance.. it felt so real, and beautiful. Their story is a gorgeous one, and this book really has so much emotion and truth in it.
It isn't just a coming out or coming-of-age story, it is a ground-breaking love story.
I felt happy and peaceful while reading this- it's the perfect novel to curl up in front of a fireplace with- but it's also a brutal reminder of how things were in the past. People are so much more accepting now, but it was hard to read about what happened to Liza as a result of her and Annie's relationship. The fact that the head-teacher fired two teachers for being gay was horrible to read.
But the ending was so worth those beautifully sad pages. The ending was perfectly beautiful, romantic and sweet. It was like unicorns, candy-canes and fluffy kittens.
This book is a valuable gift to me, and I am so happy it exists, despite the homophobes, doubters, and angry mobs of parents.
Quotes
"It's Annie and me they're all sitting around here like cardboard people judging; It's Annie and me. And what we did that they think is wrong, when you pare it all down, was fall in love."
"I went downstairs to Dad's encyclopedia and looked up HOMOSEXUALITY, but that didn't tell me much about any of the things I felt. What struck me most, though, was that, in the whole long article, the word "love" wasn't used even once. That made me mad; it was as if whoever wrote the article didn't know that gay people actually love each other. The encyclopedia writers ought to talk to me, I thought as I went back to bed; I could tell them something about love."
"The first day, I stood in the kitchen leaning against the counter watching Annie feed the cats, and I knew I wanted to be able to do that forever: stand in kitchens watching Annie feed cats. Our kitchens. Our cats."
"Don't let ignorance win. Let love."