So, most people who know me know I love Glee. And Klaine. And Brittana. Finding a new OTP can be scary, exciting and depressing. These gifs express what I've experienced.
Thinking "i don't want to get depressed and devote my life to another couple."
Then finding a new couple and thinking, screw it. Theyre just too cute!
THEN they have their first kiss.
And then you keep downloading pictures of them, and rewatching clips, and whenever they have a scene together you FLIP.
Then they have their first fight
THEN ONE OF THEM DATES SOMEONE ELSE AND EVERYTHING HURTS AND WHENEVER THE NEW PERSON IS ONSCREEN YOU WANT TO RIP THEIR EYES OUT! (not even an exaggeration, this is how fangirls feel 60% of the time)
Then (hopefully) they get back together or just kiss a few times THEN finally marry (like Klaine) and you are the happiest person ever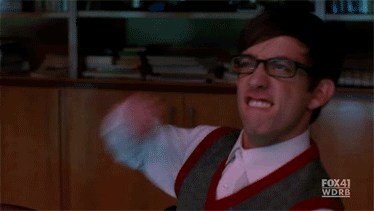 Then three weeks or so later, you watch the new episode- and they have a new couple.. and the cycle starts all over again.
Hope you enjoyed my random Gif explanation- I'm thinking of doing one a week. And I have like 30 reviews to upload, so i'll have those up sometime soonish.
Until the next time
xxx
Emmi\Aria